Good morning, We just received notice that Bus 7 is running 10 to 12 minutes late this morning. The bus company apologizes for the inconvenience.

Good morning, Bus 7 is running about 15 minutes late. We apologize for any inconvenience.

We are very sorry for the late notice. The bus company just notified us that bus five is running 30 minutes late this morning. We apologize for the inconvenience. I will be working with the bus company to address the late notification.

Good morning, Bus 2 may run 5-10 min late today, Friday.

First Day Photos: We would love to collect "First Day of School" photos of our students to celebrate the first day of school. If you are willing, please email
photos@palos128.org
a first-day photo of your student(s). Please note that any photo shared will be included in a slideshow that will be shared on social media, our district website, and email.

Third Party Food Deliveries: The Board of Education supported the implementation of a new procedure for the 2023-2024 school year prohibiting student lunch deliveries by third-party vendors and outside providers in the interest of the safety of our schools. Parents can still drop off lunches from outside vendors; however, we will no longer permit outside vendor lunches to be delivered directly to students.

Heat Warnings: Just a reminder that all schools in District 128 have air conditioning, but the school buses do not. Please have your student(s) bring water with them or consider driving your student(s) to school if you have concerns with the heat.

Ice Cream Social Reschedule: Due to excessive heat warnings, the ice cream social is rescheduled to August 31 from 5 - 6 PM at Chippewa's new playground.

Welcome Back!!! The first day of school for all students is August 24th, 2023 with an early dismissal at 12:00pm.

You should have received email, phone and/or text that we have a temporary power outage at Chippewa and Indian Hill. If you have an emergency to communicate to either school please call Navajo or Independence and they will relay the message by text to the principals. We anticipate normal dismissal procedures, if something changes, we will let you know.

Due to emergency personnel blocking roads near 127th and Central buses may be rerouted through that area and may be delayed in dropping off students.

We received a message from the bus company that the bus 4 driver was still unable to make it to work today. Unfortunately that is going to result in the bus being 10 to 15 minutes late again today. I am working with the bus company to try to have a proactive solution for the remainder of the week.

The driver for Bus 4 is out sick today and the bus is running 10 minutes late.

We were just informed that bus 4 is running running behind schedule. It will be approximately 10 minutes late.

Santa Secret Shop Tonight! Come join the fun at Independence Junior High for an evening of holiday cheer! Shop opens at 5:00 p.m.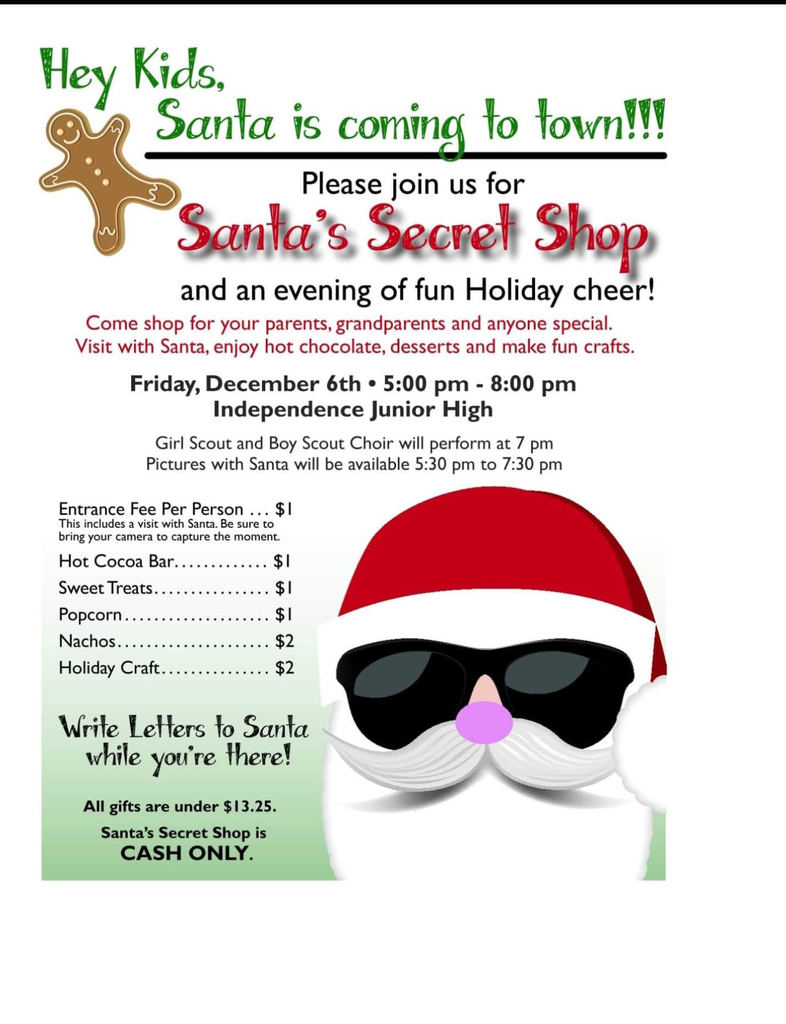 Bus 4 is running 15 min late this morning.

The website has a new look! If you have logged on from a laptop or desktop, you will see our new look is up and running. There are some pages that we are adding and are currently under construction. We hope you find the new layout easier to navigate!
https://www.palos128.org/

Power at Navajo is restored! The building will take a little time to warm up. We will ask students to keep coats on if cold. However, it will warm up and be safe to carry out instruction for the day. Thank you for your understanding as we determined how best to keep kids safe.


American Education Week Celebration at Chippewa is November 21 at 8:00-9:00. Parents are invited to meet us in the gym for the School Sing Along.